Furniture & Mattress Guide
Here you will find information about how to choose new furniture, how to choose a new mattress, and how to care for and maintain your new furniture or mattress.
FABRIC AND LEATHER UPHOLSTERY
Quick Facts...
Before you purchase a piece of upholstered furniture, consider:
How much and what kind of use will it receive?

How much care does it need and how much are you willing to give for its upkeep?

How long do you want it to last?
Begin your evaluation of upholstered furniture by considering the fiber content.

Also consider quality, comfort, price, style and color.
Performance Requirements
Consumers generally assume that furniture will be durable and meet their expectations about maintenance and appearance. Some types of upholstery fabric are better suited to specific areas. Consider where and how a piece will be used. Furniture in high use areas (family rooms, kitchens) must be durable and easy to maintain. Elegant textiles with complex textures may be more suitable for low traffic areas such as formal living rooms.
Choose upholstered furniture by evaluating the quality of furniture available in your price range. Be aware of the performance requirements for your needs and identify the criteria most important to you.
Health and Safety - Fire
Cigarettes are the most common cause of household fires. The Upholstered Furniture Action Council (UFAC) is a voluntary program designed by furniture manufacturers to promote guidelines and standards for flammability of upholstered furniture. Member firms display a UFAC hang tag on furniture telling consumers how their upholstery fabrics have been classified in flammability tests.
Flame retardant finishes can be applied to cotton and rayon.
Fiber Properties
Fabric
Acrylic is a synthetic or manufactured fiber that is both soft and lightweight. It dries easily and is machine washable. Acrylics are popular because of their ability to retain their shape and texture after washing and drying, however they can pill easily. Static cling also happens frequently with acrylics.
Acetate is a synthetic or manufactured fiber with a silky luxurious appearance. It dries easily and resists absorbing moisture. Most acetate fabrics will need to be dry cleaned for their care. Some newer pieces of clothing are being made with acetate knits. Some of these newer pieces are able to be washed. Acetate is a frequently used fabric in clothing and home furnishing uses.
Cotton is probably one of the most common fabrics you're likely to have in your home as clothing. Cotton is a natural fiber and is used in a wide variety of clothing and home furnishings. Cotton is easily washed and/or dry cleaned. Cotton is a good strong fabric that is absorbent, and easy to work with. Cotton has a tendency to wrinkle very easily, so cotton/polyester blends began to be popular. Many people prefer the year-round "breathing" and lack of pilling of one hundred percent cotton.
Linen is a natural fiber that is very strong and comfortable. Linen can be hand washed and/or dry clean only. It irons nicely to a nice crisp fabric.
Microfiber is a fiber with less than 1 denier per filament. (Denier is a measure of linear density and is commonly used to describe the size of a fiber or filament. Nine thousand meters of a 1-denier fiber weigh one gram.) Fibers are then combined to create yarns. Yarns are knitted or woven in a variety of constructions. While many microfibers are made of polyester, they can also be composed of polyamide or other polymers.
Nylon is a synthetic fabric that is strong and lightweight. Nylon is easy to wash and take care of. Because nylon resists absorbing moisture and dries easily, it is often used for swim wear and active wear.
Polyester is a strong and durable synthetic fabric. Polyester dries quickly and can be washable or dry clean only, so check your tags. Polyester is often used as a blend with other fabrics to lend wrinkle resistance. It is not the easiest fabric to remove stains from, and doesn't breathe as well as other fabrics may.
Rayon is a soft and comfortable fabric that absorbs well and has few static and pilling problems. Rayon can have problems with shrinking. There are both dry clean only and washable rayon fabrics on the market today. The only difference in these rayon fabrics is their finishing stages.
Leather, Bonded Leather and Leather-Mate
Leather is a highly durable textile made from animal hides that have been treated to preserve them, and it has been used to make a variety of items for thousands of years. Leather is comfortable and adaptable, and comes in a variety of colors. When properly maintained, leather is easily cleaned, not easily penetrable by dust, lint and pet fur. It is also naturally flame resistant.
Bonded leather consists of blended leather or particles of leather adhered together with a coating of PU (polyurethane). It is a cost-effective alternative to leather and quite similar in look and feel. Like leather it is easy to clean though it will not last as long as geniuine leather.
Leather-Mate is a combination of leather and matching vinyl. Typically, the leather is found everywhere you touch whilte the vinyl is used on the sides, bottom and backs of the furniture.
Durability
Appearance Retention
How well upholstered furniture will wear depends on the fiber, fabric, color application, finish, color fastness and dimensional stability.
Fiber
Fibers and their characteristics are summarized in Table 1. Complex or fancy yarns of any fiber type may snag and break with abrasion.
Fabric
Upholstery fabric must be firmly woven. If fabric samples are available, hold the fabric up to the light. Is it compact? Closely woven? Examine the raw edges of the fabric. Do they fray or ravel easily? If so, yarns will shift and pull away at the seams, particularly in cushions and where upholstery fabric is attached to a sofa or chair frame. Stretch the fabric diagonally. Does it stretch and then completely recover? If it does, it will hold its shape without wrinkling.
A balanced weave, where all yarns are about the same size and strength, wears better than one with heavy yarns in one direction and thin yarns in the other. A twill weave resists wear and shows soil less than a plain weave of similar quality.
Flat-surfaced fabrics like damask, brocade and satin show the effects of abrasion because the long yarns on the surface are subject to wear.
Pile fabrics, like frieze, plush and velvet, withstand abrasion quite well if they are made of firm yarns with deep and close pile and firmly held to the ground cloth. A pile fabric with cut loops mats more easily than one with uncut loops.
A latex backing often is applied to upholstery fabrics to help stabilize them. The latex forms a coating that helps keep soil from sifting through. It prevents seam slippage and makes precise cutting possible. Loosely woven fabrics should have an applied backing to ensure stability and longer wear.
Color Application
Pigment-printed fabrics may show color loss from abrasion. If you have a sample of the fabric, rub it 20 to 30 times with an emery board. Does the color change or rub off?
Finish
Easy care and stain-resistant finishes allow water-based stains to be easily blotted up. Scotchgard® by the 3-M Company, Teflon® and Zepel® by DuPont are examples of stain-resistant finishes.
Some finishes of this type, however, may retain oily soil. Ask for information about the type of finish that the manufacturer has applied. Is the finish durable? Is it covered in the warranty?
Colorfastness
Colorfastness is the ability of fabrics to withstand color changes due to sunlight, abrasion, chemicals and cleaning. Ultraviolet light can seriously damage textiles by increasing fading and by causing deterioration of fibers. Don't put upholstered furniture in intense sunlight for long periods. If this is not possible, choose fibers that withstand sunlight and consider window treatments that filter light.
Test fabrics for color loss by applying any chemicals or cleaning agents in an unobtrusive area before using them. Use a clean, white cloth so that you can see if color is transferred.
Dimensional Stability
Dimensional stability refers to a textile's ability to resist shrinking or sagging. Loose weaves may become distorted or sag over time. Use appropriate care methods to prevent shrinkage.
Ease of Maintenance
Consider how easy it is to maintain or clean your upholstered furniture. See more information under the Furniture Care tab above.
Quality
Read all labels. Note and compare prices. Price alone is not a true guide to quality. A less expensive fabric might serve your purpose as well or better than a more costly one. Study the hang tags, labels and information imprinted on fabric selvages, if samples are available. Labels should specify whether a fabric is colorfast to light, cleaning or abrasion.
The label may have a number or letter that indicates fabric classification. The less expensive fabrics usually are labeled with low numbers or the first letters of the alphabet. For example, "11" would indicate a more expensive fabric than "4" and "K" a more expensive fabric than "D."
Indicators of quality for upholstered furniture also include:
strong, stable frames that cannot be felt from the outside;

straight application of fabric on grain;

matched patterns;

straight strong seams;

secure buttons;

joints closely fitted, dowelled, screwed, and glued;

arms reinforced with metal where they meet the seat frame;

closely-woven internal webbing, securely tacked;

double coil springs, tied securely; and

firm rolls of padding on sharp areas of frame.
---
Mattresses
Mattress Sizes and Dimensions
| Mattress Size | Dimensions (Width x Length) |
| --- | --- |
| Twin | 38" x 75" |
| Twin XL | 38" x 80" |
| Full | 54" x 75" |
| Full XL | 54" x 80" |
| Queen | 60" x 80" |
| King | 76" x 80" |
| California King | 72" x 84" |
Mattress Types
Innerspring Mattresses
Innerspring mattresses are the most common type of mattress. They consist of a spring zone and a comfort layer. The innerspring is the source of support and provides proper spinal alignment while you sleep.
Beneath the ticking of the mattress are the comfort layers that cushion your body at the sleep surface. The combination of various foams and fibers provide varying levels of softness and comfort. Pillow Top mattresses include additional comfort layers on top of the mattress for additional supportive comfort at the surface.
There are four main types of innerspring or coil mattresses:
Open (or Bonnell) coil mattresses have hourglass-shaped coils, which are attached to surrounding coils with a small wire spiral called a helical. This design provides good initial support and works to isolate motion transfer. However, open coils tend to wear more quickly than other coil constructions.

Offset coil mattresses have a construction similar to open coil but have a square head, which enables the mattress to contour better. An offset coil is slightly more cylindrical in shape than an open coil which gives it durability.

Individually wrapped (or Marshall) coil mattresses have an individually wrapped cylindrical coil contained within separate fabric pockets. Each coil is separates so the rest of the bed is not disturbed by the movement of the coils surrounding it. Individually wrapped coil mattresses use advanced twice-tempered steel for additional durability. Tempering is the process of heating and cooling the coils to ensure they retain their proper shape over time. A "double heat tempered" coil has gone through that process twice, ensuring increased durability.

Continuous coil mattresses have rows of advanced coils made of a single continuous wire. By sharing the weight load across several innersprings, each spring holds its share and integrity longer. This results in a system that is stronger and more supportive than other innerspring systems.
You might have heard a rumor that the more coils in an innerspring, the more supportive the mattress will be. While this can be true, coil count is not nearly as critical today as it once was. These days, the combination of coil count, coil gauge and the construction of the coils are much more important factors in determining the overall comfort and support of the mattress. Continuous coil innerspring systems can provide greater support than other coil systems with similar coil counts because of the unique construction.
Latex Foam Mattresses
Latex foam mattresses are quickly gaining popularity with today's consumers. These mattresses feature a latex foam core as the support system, rather than the traditional innerspring.
Latex foam is extremely resilient and breathable which helps to reduce the heat buildup typically associated with all-foam mattresses. Its unique construction allows it to instantly respond to the body to provide a high level of comfort while helping to promote proper spinal alignment. These qualities allow latex foam to act as a support system in lieu of a traditional innerspring.
By definition, latex is a rubber particle suspended in water. There are two types of latex – natural and synthetic. The advantage of synthetic latex is that it is more durable than natural latex, so it will maintain its resilience and provide pressure-relieving comfort longer. The latex used in mattresses is a blend of both natural and synthetic latex designed to deliver optimal performance that will last throughout the life of the mattress.
Latex foam is manufactured utilizing two distinct production methods - Dunlop or Talalay. Both processes use a blend of natural and synthetic latex. The Dunlop process is the most commonly used latex production method. The foam is designed to be responsive, supportive and comfortable but it is limited in firmness range. The Talalay process is a highly controlled process that produces the highest quality, most resilient and consistent foam. Latex foams are naturally antimicrobial, dust mite resistant and hypoallergenic.
Memory Foam Mattresses
Memory foam mattresses feature a visco-elastic memory foam core as the support system, rather than the traditional innerspring. Like latex foam, memory foam's ability to deliver both comfort and spinal support allow the foam to act as a support system in lieu of a traditional innerspring.
Memory foam responds to your body temperature by softening under warmth, allowing the foam to contour to your body when you lie down. However, this also creates a disadvantage because memory foam can sleep hotter than other foams. Manufacturers of memory foam mattresses now offer cooling gel infused throughout the mattress to help absorb and disperse excess body heat.
Memory foam can help to promote a more restful sleep because it provides significant pressure relief that can cause an individual to toss and turn or wake up and shift positions during sleep. Plus, motion transfer is drastically reduced as it absorbs movement without affecting the other parts of the mattress.
Memory foam is typically denser than other foam mattresses. This makes it very supportive, but also heavier. It can be considered a good compromise between the comfort of a soft mattress and the support of a firm one for those who prefer a foam core mattress.
Memory foam comes in several densities. In general, a higher foam density number of 4 to 5 pounds is desirable since it provides a more resilient foam to enhance the contouring benefits of the mattress.
Mattress Comfort Levels
Mattress comfort level refers to the firmness of your mattress. The five comfort levels for mattresses are:
FIRM

(Also includes Cushion Firm) Uses firmer padding, foam pads, and a tighter quilting pattern on the ticking to give a harder feel to the bedding, less conforming to the body, typically preferred by those people who sleep on their backs.

PLUSH

Uses more cotton/polyester blown fibers, convoluted (egg crate) foams, cushy fabrics and looser quilting patterns to create a softer, more conforming-to-the-body feel to the bedding, typically preferred by those who sleep primarily on their sides.

ULTRA PLUSH

For customers who are looking for an enveloping softness with deep support.

PILLOWTOP

Uses an extra layer of body-conforming padding, usually very soft feeling to the body (while still providing great support through the coil system on the inside).

EURO PILLOWTOP

Differs from the Pillowtop by having the extra layer of comfort padding that is NOT pinched together along its edges but is, rather, an extension of the mattress top. It creates a mattress with a lot of extra depth and extra comfort - right to the edge of the mattress top. However...this is sill in the "pillowtop" comfort level.
Foundations
Standard foundations are 8" - 9" tall whereas low profile foundations are 4.5" - 5.5" tall. Low profile foundations can make it easier for you to get into and out of your bed. No foundation is necessary when you are using it with a platform bed or bunkie board. Split foundations are typically used with king- and California king-sized mattresses, and they offer the maneuverability to more easily move your bed.
IMPORTANT INFORMATION REGARDING YOUR NEW MATTRESS
What to Expect: New sleep sets will be firmer than floor models that have been broken in. Like a new pair of shoes, it may take several weeks for you to acclimate to a new mattress. Most people have been sleeping on the same sleep set for years and it's only natural that it might take a while to get used to your new bed. We recommend sleeping on your new mattress for at least 30-60 days to allow your body time to adjust.
There is an initial break in period. All mattresses and foundations are made to order from all new materials. The mattress set may feel slightly different from the floor model for that reason.

All new foams, fiber, and fabric may have a slight odor. We recommend airing out your mattress and that odor will dissipate over a few days.

There may be an adjustment period for your body to adjust to a new mattress. Today's mattresses are designed and made to provide optimal support, conformance, and motion separation. Like the foam insoles in a new pair of sneakers, a new mattress will conform to your body over time. Body impressions up to 1 ½" are possible and normal. This is caused by the compression of the foam and fibers. Impressions greater than 1 ½" are covered under the warranty.

Please review the warranty card that will be attached to your new purchase. It outlines what is covered under the terms of the warranty. Keep the warranty card and your sales receipt for your records. Pro Tip: Place your warranty card and sales receipt it in a ziplock bag, and keep it between your mattress and foundation for future reference.
Please take proper care of your new sleep set. Mattresses in an unsanitary condition will void the warranty. That includes stains and soiling. Pro Tip: Purchase and use a mattress protector. If you buy a mattress protector along with your mattress, we include our Comfort Exchange Policy

with your purchase.

If a foundation is used under your new mattress, it must be the matching foundation from the manufacturer. All other foundations will void the warranty. Mattresses on a platform bed are covered under the manufacturer's warranty.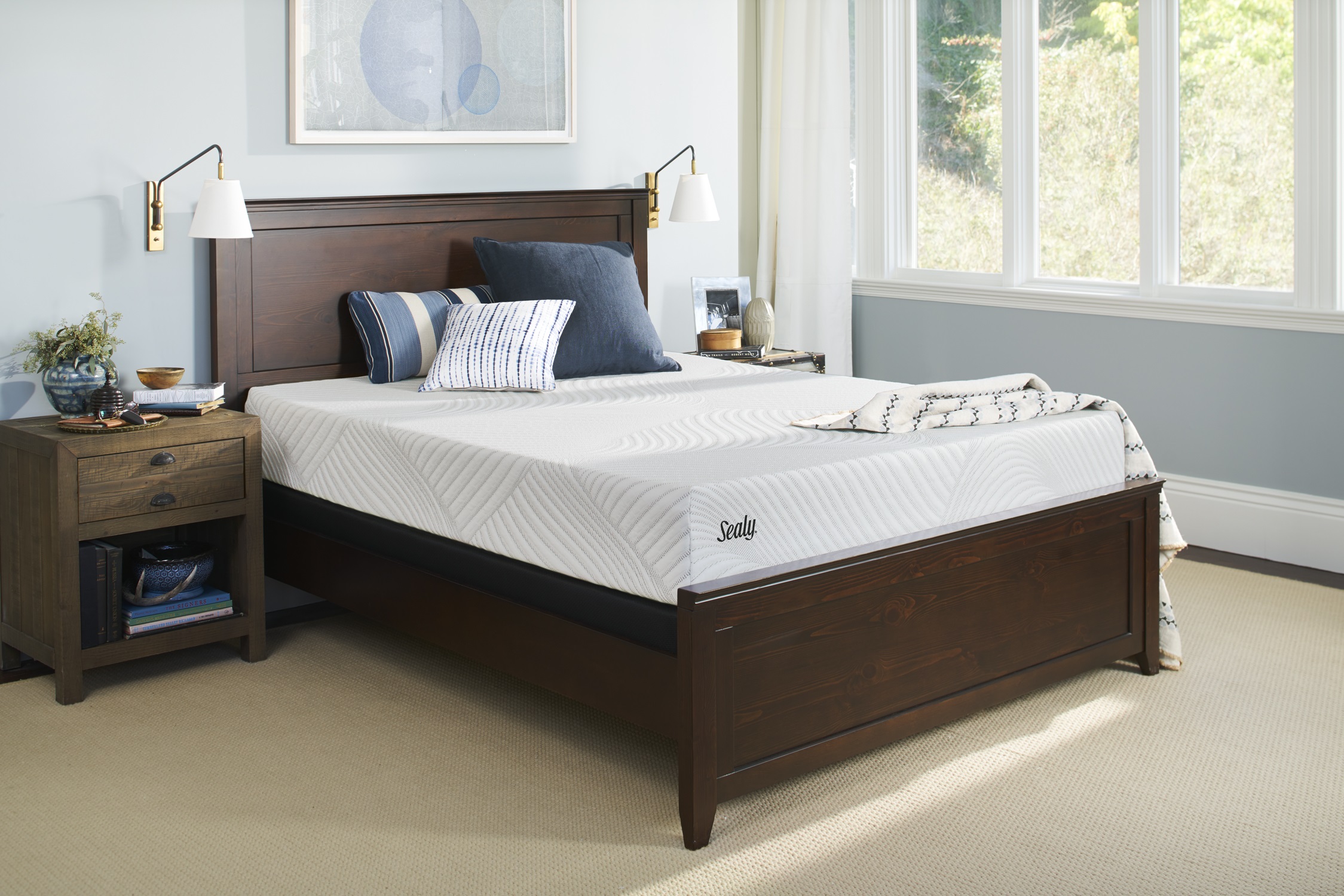 Fabric
Stain Removal
Blot up stains as quickly as possible. Do not rub. Prompt attention to stains increases success in removing them. Even stain-resistant finishes offer only temporary protection. You may also protect your fabric upholstery with our 5-year extended warranty. Please see our Furniture Protection Plan page for more information.
Maintenance
Cleanability codes are listed on furniture tags to assist you in identifying the appropriate methods for caring for your furniture:
Cleanability Code W - Fabric Care: Spot clean, using the foam only from a water-based cleaning agent, such as a mild detergent or non-solvent upholstery shampoo product. Apply foam with a soft brush in a circular motion. Vacuum when dry. Pretest a small area before proceeding. Call in a professional furniture cleaner to treat an overall soiled condition.
Cleanability Code X - Fabric Care: Clean this fabric only by vacuuming or light brushing to prevent accumulation of dust or grime. Water-based foam or solvent-based cleaning agents of any kind may cause excessive shrinking, fading or possible pile distortion.
Cleanability Code S - Fabric Care: Spot clean, using a mild, water-free solvent or dry-cleaning product. Carefully follow instructions on such products. Avoid any product that contains carbon tetrachloride, which is highly toxic. Pretest a small area before proceeding. Call in a professional furniture cleaner to treat an overall soiled condition.
Cleanability Code W-S - Fabric Care: Spot clean this fabric either with a mild solvent or dry-cleaning product. Follow instructions carefully and clean only in a well-ventilated room. Avoid any product that contains highly toxic carbon tetrachloride. You may also use an upholstery shampoo product or the foam from a mild detergent. With either method, pretest a small area before proceeding. Call in a professional furniture cleaner to treat an overall soiled condition.
Caution: For any cleanability code, never remove cushion covers for separate dry cleaning or washing. Any cleaning method that requires the removal of the covers from the cushions can destroy the backing, shrink, or otherwise damage upholstery fabric.
Leather
Make sure to find out if your leather is a fully protected, semi- protected or "naked" hide.
FULLY PROTECTED (aka semi-aniline leather): If it does have protection, just wipe up spills with a dry cloth. You can also use a cleaner that is specified for use on leather for tougher spots.
UNPROTECTED OR 'NAKED' (aka aniline leather): If it doesn't have protection spills WILL become a part of your furniture. Hair and body oils WILL work their way into the leather. All of this really adds to the well-worn beauty of an old baseball glove or a favorite bomber jacket. All of this adds to the beauty, charm and uniqueness of unprotected, naked leathers.
Please remember that leather is a natural product and, thus, breathes and can dry out or fade in the heat or sun. It is important with protected leathers to restore the moisture at least twice a year with a leather conditioner. We also recommend that you not leave leather pieces in direct sunlight, as this may cause them to fade. If your leather piece is in a high sun or heat area, it is recommended to use a leather conditioner more often.
If you purchase our Furniture Protection Plan, you are protected for 5-years against accidental spills, tears and marks. Read more about this 5-year extended warranty here.
Wood
Liquids
Spilled liquids should be wiped from the surface immediately with a soft, slightly damp cloth, in the direction of the wood grain. The best general rule to follow is that wood and liquids don't mix.
Heat, Sunlight, and Moisture
Fine wood furniture should not be exposed to extreme heat or humid conditions, such as placing it near a heat outlet or an open window. Try to avoid direct sunlight which may cause certain finishes to fade.
Placing Objects On Wood Furniture
Do not place plastic, rubber or hot objects directly on a wood finish. Chemicals in plastic and some rubber may soften or discolor the finish if left in contact with the furniture for a long period of time. To avoid these markings, place a strip of felt, leather or cork under accessories.
Dusting
Remove household dust with a soft, clean cloth, dusting with the grain. The cloth may be dampened with a cream furniture polish may be used. Follow the manufacturer's directions on the product. Avoid products that leave an oily film on the furniture since they may cause a clouding of the finish and have a tendency to collect dust.
Polishing
Occasional polishing with a high quality, non-silicone furniture polish will enhance the beauty of the fine Bernhardt finish. Avoid using oily polishes or waxes.
Cleaning
Every six months or so, there may be a need or desire for more thorough cleaning of wood furniture than routine dusting. The furniture may be washed with a mild soap intended for that purpose or a furniture cleaning product available in most grocery stores. Following the directions on the product, use a soft cloth and wipe with the grain. A furniture polish may be applied if a little more shine is desired.
Scratches
Over time, scratches from normal use may be noticed on furniture. These can be touched up with a scratch remover or special touch-up pens or sticks available at your furniture dealer or at many paint stores.
We also offer a Furniture Protection Plan, a 5-year extended warranty to help protect your furniture investment. Click here for more information on this program.
Brass
Make sure to find out if your brass product has a protective coating on it.
IF IT DOES: If it does, just use a dry cloth to wipe it down. Do NOT use any abrasives or harsh cleaning products, as it will remove the protective coating.
IF IT DOES NOT: If it does NOT have a coating, you will have to get a good brass polish. There are many products out in today's marketplace that are easier to use than what our Grandmothers had to deal with. With a little polish and a little elbow grease will get your piece shining like new!
---
Mattress Care
Rotating Your Mattress
The first thing to know about mattresses is that you should rotate them on a regular basis - much like rotating your tires on your car. During the first month of usage, it's recommended to do this on a weekly basis to provide even wear to all sides of the mattress. After that, monthly is recommended. Rotating means to make a 1/2 turn of the mattress while it lies flat on the bed.
Foundations
Foundations are made to work with your mattress to provide a comfortable sleep environment. When you need a new mattress (at least every 10 years) you need a new foundation. If you don't do that it would be like buying a new car body and putting it on the old car chassis.... you'd be in for a pretty bumpy ride.
Mattress Pads
Due to the fact that most of us (like it or not) shed our skin, sweat in our sleep, or bring to bed foreign objects (grains of sand) at times, it is also a good idea to protect your mattress with a mattress pad. This will prevent anything from working its way through your sheets and into your mattress, sometimes causing friction that will break down the mattress.
Mattress Protection Plans
Mattress Care Pro Tips
Proper Installation

Ensure that your new mattress and box spring are properly installed on a sturdy bed frame with a center support for queen and king size mattress sets. Improper installation can damage a new sleep set. If you choose to transport and install your new sleep set yourself, carefully review all installation instructions.

Rotate It

Rotate your new mattress from end to end every two weeks for the first three months and then once every six months.

Use a Protective Mattress Pad

To keep your new mattress fresh and free from stains, use a quality, washable mattress pad. Stains and soiling will void the manufacturer's warranty.

Let It Breathe

If you detect any odors from your new mattress, let the mattress air out. Most odors dissipate within a week.

Don't Dry Clean

The chemicals used in dry cleaning agents and spot removers may be harmful to the mattress fabric or underlying materials. Vacuuming is the only recommended cleaning method. Never soak a mattress or box spring.

Don't Remove the Tag

While you, as the consumer, are able to remove the law tag, we recommend you don't. The information on the label will assist in identification should you have a warranty claim in the future.

Save Original Receipts and Warranty Papers

Please be careful to save your original sales receipt and warranty information for reference.

It's Not a Trampoline

Don't allow children to jump on your new sleep set. It could damage the interior construction and void the warranty.